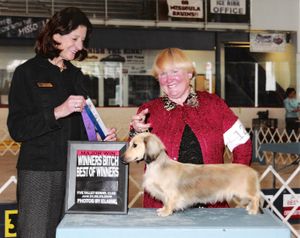 AKC/CKC & Int'l CH Teckelwood Madonna (Maddie), 
born the 16th of April 2006, 
came to us from Amanda and Rae Hodges of Teckelwood Dachshunds in Charlo, Montana.  A daughter of CH Faulkdach Jack of Teckelwood ML and Int'l CH Devoncream English Rose, Maddie has earned her American (AKC), Canadian and International championship.  During this time she has whelped two litters.  The first litter was sired by BISS CH Wagsmore's Captivating ML ROMX and produced seven puppies.  The second litter was sired by Devoncream Magic Master RN and produced eight puppies. 

From the first litter we have Bred-by CH Wyndox Delightfully Captivating ML (GiGi) and Int'l CH Wyndox Positively Captivating ML (Morgan).  The remaining five were sold as companions even though many of them could have done well in the show ring.

The second litter has it's first champion, CH Teckelwood Houdini V Wyndox ML (Houdini).  Along with Houdini there are five other puppies winning in the show ring.  Teckelwood Illusionist V Wyndox ML (Mira), Teckelwood Magique A La Creme ML (Farrah-major pointed), Teckelwood Trickery V Wyndox ML (Trixie), Teckelwood Abracadabra V Wyndox ML (Abby) and Teckelwood Prestidigitation V Wyndox ML (Preston).

We are very proud of this young lady.  She has accomplished much in her short time here and we expect that an ROM will be behind her before the year is out.  Maddie will be having only one litter in the next few years and will then be retired from the whelping box.  

We welcome you to check the nursery to see when a breeding will be announced.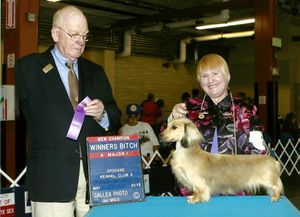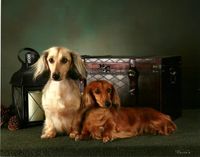 Devoncream Easter Biscuit

Newberry's Forbidden Love

Hickory Hill Brindle Rose ML

CH Han-Jo's Tom Terrific ROM

CH Merri-King Maywood Kora

CH Hickory Hills TV's Ozzie

Bethdene Cream Phantom At Albaney

Weaverbird Master Craftman