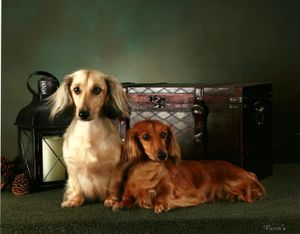 CH Teckelwood Madonna (left) and GCH Wyndox Delightfully Captivating ML (right)

AKC/CKC GCH Wyndox Delightfully Captivating ML
, born the 11th of September 2007, was the first girl born in a litter of seven.  Three girls and four boys with five being Black and Tan or Black and Cream and two Reds.  Her sire is BISS CH Wagsmore's Captivating ML ROMX and CKC CH Teckelwood Madonna.  Her brother is,
Morgan
(AKC/Int'l CH Wyndox Positively
Captivating ML), will be going on for his Canadian Championship.  She is also the aunt to
Dillon
, his mother being Gi Gi's sister Liesel.  Gi Gi is all girl with her "aren't I beautiful" attitude.
She has made us very proud earning her Championship title with 2 five point majors and our first bred-by champion.  She had an invitation to the Eukanuba National Dog Show in 2010 and did a lovely job against the top dogs in the nation.  She was also captured in the
Doxie Digest
in their article about the 2010 Eukanuba Show.  Gi Gi has also earned her Grand Championship the same weekend that her dam, AKC/CKC/Int'l CH Teckelwood Madonna earned her championship.  We will now be going to the Eukanuba National Championship again in 2012.
She has passed on her lovely confirmation and adorable personality in her first litter, born 13 April 2011.  She was bred to
AKC CH Rose Farm's Just Right ML
(JJ) and they produced three lovely puppies, two boys and one girl.  As I expected we received a rainbow of color from this breeding.  The boys were a black and cream and a cream and the girl is a red.  You may see these puppies on their pages under
Christian
,
James
and
Paris.
  She has also had a second litter of two with "JJ", Hugo and Madeleine.  Both were beautiful creams.  Hugo has earned 11 of his required AKC points and is expected to receive his championship by early 2017.  Madeleine is in her forever home living the life of luxury.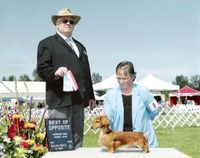 CH Sleepytime's Facsimile ML

Newberry's Forbidden Love

Hickory Hill Brindle Rose ML

Bethdene Cream Phantom At Albaney